Yarra Ranges Council & the Planning Minister continue to progress the Warburton Mountain Biking Destination (Warburton MTBD) Project. The latest updates on this project's progress can be found on the following link.
http://www.rideyarraranges.com.au/warburton-mtb-destination/
I have undertaken land surveying in the Warburton area for nearly 30 years. The terrain and landscape surrounding the town is perfectly suited to the establishment of a first class Mountain Biking destination, that due to its close proximity to Melbourne will attract both day & overnight mountain biking enthusiasts. The extensive Environmental Effects Statement (EES) determined this project with some modifications, can be undertaken in a environmentally sensitive manner.
With any project of this size, there are differing views within the community. All views were carefully considered, and the project has been amended where issues of significance were identified. The final project design is a balance of all competing planning, economic & environmental outcomes. No project irrespective of size is perfect. The project has been approved after a very lengthy and detailed assessment process, and its been deemed the project can be appropriately managed through conditions of the permit to deliver a net benefit to the Warburton Community.
Planning Amendment C198 was approved by the Planning Minister on 23 October 2023, and this introduces Specific Control Overlay SCO16 and the Warburton Mountain Biking Destination Project (Southern Network) Incorporated document, October 2023 into the Yarra Ranges Planning Scheme, which relate to the Stage 1 development area. This enshrines the conditions associated with this southern part of the project into the Yarra Ranges Planning Scheme.
The Specific Control Overlay SCO16 Map details the land as affected by this new Overlay, being the previously approved mountain bike trails alignments, with the Incorporated Document containing the approved conditions under which the previously approved southern network of mountain biking trails must satisfy for their development.
These recent amendments within the Yarra Ranges Planning Scheme can be found through the following link.
Specific Controls Overlay SCO16
Warburton Mountain Biking Destination Project (Southern Network) October 2023 Incorporated Document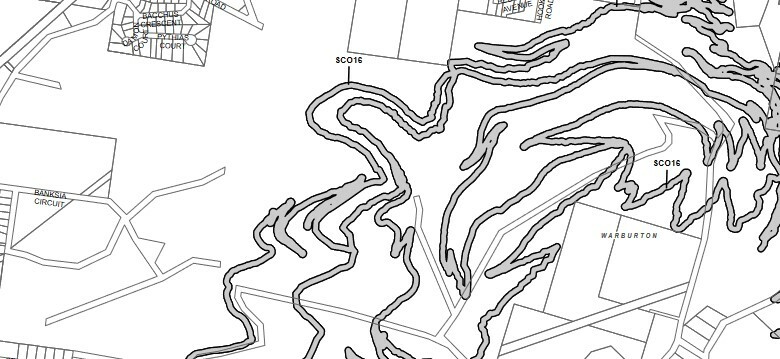 Image : Extract from SCO16 Map 47


Stage 1 of the project will deliver approximately 110 kilometres of Mountain Biking Trails of varying difficulty levels, together with associated infrastructure improvements within the Warburton Township and surrounding area.